Model Diagnosa Kondisi Kendaraan Bermotor Berbasis IOT Menggunakan Pendekatan MIL
Mohamad Ridwan

Universitas Islam Syekh-Yusuf Tangerang

Rizqi Fuadi Nur Baihaqqi

Universitas Islam Syekh-Yusuf Tangerang
Keywords:
MIL, Diagnosa Kerusakan, Bebek Fuel Injection, IOT Diagnosa, malfunction indicator lamp
Abstract
Alat trasportasi saat ini menggalami perkembangan yang cukup cepat dalam teknologinya. Dulu kita mengenal dengan teknologi pengapian motor menggunakan platina dan karburator sebagai campuran bahan bakarnya dan saat ini berganti menggunkan teknologi fuel injection dimana teknologi ini lebih ramah lingkungan, lebih hemat BBM dan juga lebih efisien. Namun masih banyak pengguna kendaraan bertipe bebek yang berteknologi fuel injection tidak mempunyai pengetahuan tentang perawatan dan diagnosa kerusakan. Penelitian ini membangun sebuah sistem scanner untuk menemukan kesalahan atau kerusakan sistem motor injeksi melalui pendekatan kedipan lampu MIL (Malfunction Indicator Lamp). Dengan menggunakan sensor LDR, status MIL bisa ditangkap oleh microcontroller dan selanjutnya diolah dan diterjemahkan oleh Nodemcu berdasarkan kode gejala dan kerusakan. Nodemcu akan memberikan data hasil analisa ke aplikasi android secara realtime melalui pendekatan IOT. Hasil dari penggujian 4 sensor yang mengalami kerusakan mendapatkan akurasi 85%.
References
[1] M. Ridwan, "OPTIMALISASI TEKNOLOGI INFORMASI BERBASIS SMS GATEWAY MEMANFAATKAN PERINTAH DASAR AT COMMAND," In JURNAL ILMIAH TEKNIK INFORMATIKA, 2015, Vol. 1, No. 1.
[2] T. Widiyaman, "Pengertian Modul Wifi ESP8266," Www.Warriornux.Com. Https://Www.Warriornux.Com/Penger Tian-Modul-Wifi-Esp8266/.
[3] M. Rofiq And M. Yusron, "Perancangan Sistem Kontrol Dan Monitoring Lampu Dengan Memanfaatkan Teknologi Bluetooth Pada Smartphone Android," J. Ilm. Teknol. Inf. Asia, Vol. 8, No. 1, Pp. 14–23, 2014.
[4] M. Ridwan, D. Djamaludin, And M. Roqib, "Prototype Monitoring Temperature And Humidity Sensor Room Server-Based Internet Of Things (IOT)," 2020, Doi: 10.4108/Eai.23-11-2019.2301576.
[5] Y. Yudhanto And A. Wijayanto, Mudah Membuat Dan Berbisnis Aplikasi Android Dengan Android Studio. Elex Media Komputindo, 2018.
[6] M. S. Kedambadi, M. S. Parmar, And S. A. Doshi, "Fault Identification System For Motor Cycle Using Malfunction Indicator Lamp LED Blinking Frequency Detection On Mobile Device," In 2018 International Conference On Advances In Computing, Communications And Informatics (ICACCI), 2018, Pp. 1909–1913.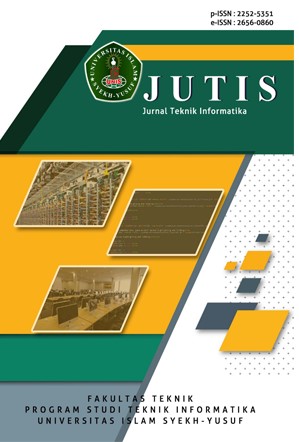 How to Cite
Ridwan, M., & Nur Baihaqqi, R. (2021). Model Diagnosa Kondisi Kendaraan Bermotor Berbasis IOT Menggunakan Pendekatan MIL. Jutis (Jurnal Teknik Informatika), 8(2), 206-212. https://doi.org/https://doi.org/10.33592/jutis.v8i2.1109